The character of the Polish Lowland Sheepdog is indeed charming and its intelligence is remarkable, with an amazing memory. Its super rapport with children makes them an ideal family pet. Pons are faithful and loyal companions who adore nothing better than to be at your side, preferably lying at your feet.
Quite often when being assessed at a show it is easy to gain an impression of them being very quiet, laid back, docile dogs, but they only behave in this manner when trained, on their home ground they are usually very much on "on their toes".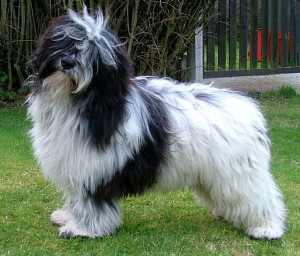 Polish Lowland Sheepdogs are a medium sized dog (the minimum height is 16½ins (42cm) and the maximum is 19¾ins (50cm) to the shoulder). They are an ideal size to have around the house and their shaggy appearance makes them very attractive. However they are not suitable for families who cannot demonstrate correct discipline. Although they are not a large dog they should have strong bones and be substantial in body.
The coat is very dense and shaggy, with an undercoat designed to keep out the cold, even in extreme freezing temperatures, so naturally coat care is of extreme importance otherwise skin irritation could lead to a long term condition. If groomed correctly the PLS will be cool in hot conditions, and warm in cold temperatures.
Here is a link to the Kennel Club Breed Standard for Polish Lowland Sheepdogs
http://www.the-kennel-club.org.uk/services/public/breed/standard.aspx?id=5134